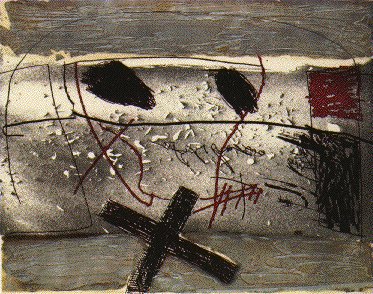 Adéu Antoni Tàpies ! Spanish painter, sculptor and essayist, Antoni Tàpies i Puig, has died at the age of 88, this, Monday, afternoon in Barcelona .
Considered as one of the grand exponents of informality worldwide, he was born in Barcelona in 1923.
Self-taught, he became of the most maestros of vanguard art in the 20th century, and developed his own Antoni Tàpies Foundation which opened in 1990 in Barcelona.
Tapies' early work was strongly influenced by surrealist painters like Miro and Klee.
But he later developed his own style, featuring built-up surfaces that were often scratched with letters, numbers and signs.
There was a marked spiritual element to his work, where the art transcended it's physical state to demonstrate a deep analysis of the human condition.
His work in the 1970's became more political, pro Catalan and anti-Franco, and was also influenced by pop-art.

See more of his work at
the
Antoni Tàpies Foundation.